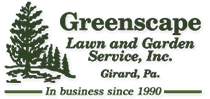 We are excited and proud to announce we are Celebrating 32 Years this year!!
We are grateful for our customers and to be able to continue to provide all landscaping services to our community.  Looking forward to the new year and it's possibilities!
Landscaping Erie PA
Greenscape Lawn and Garden Service, Inc.
Let us take care of All Your Lawn & Landscaping Needs!
Liz Thompson (Green), Operations Manager/Husband, Ken and their Hardscape Crew Foreman, son Jeff,  have seen this operation blossom from the hard work and effort that it takes to be successful. The company has grown from mowing lawns and maintaining landscapes to a full design and installation operation. Greenscape Lawn & Garden Service, Inc. is big enough to provide all of your lawn and landscape needs, yet small enough to give you the personal attention you deserve!
If there is anything our team of lawn and garden experts can't do – like large tree work or sprinkler systems – we will work with the best subcontractors in the area.
Fully insured Greenscape Lawn & Garden Services, Landscaping Erie, PA specializes in bringing new life to your landscape. Refresh your home by giving it a younger,  colorful, low maintenance, curb appeal! Get color throughout the season with a variety of flowering trees, shrubs and perennials.
Erie's Choice in Landscaping and Hardscape Services
Greenscape Lawn & Garden Services, Inc. – located in Erie, PA – will do routine maintenance for your yard with our lawn mowing services. Enjoy your weekends and week nights after a hard days work!
Be sure to check out Greenscape Lawn & Garden on Facebook!
Also featured on Houzz!